Should A Flannel Shirt Be Tucked In Or Not?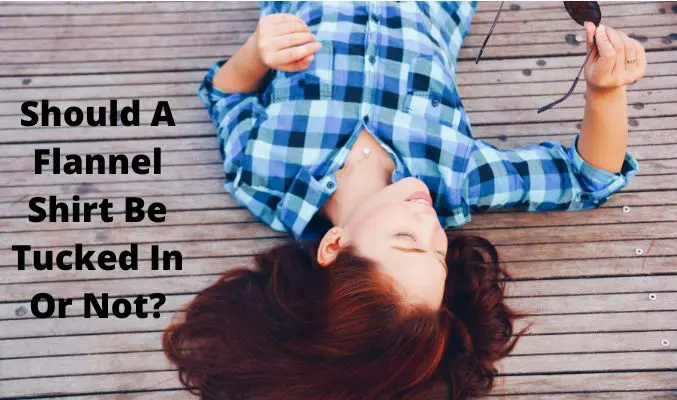 Of course, you don't need to be told how to dress but then, you might secretly admit that often when giving the finishing touch to your outfit, you look at the mirror and ask yourself, ''should I tuck my shirt in or should I leave it untucked?'', especially when it is to the versatile men's flannel shirts. The answer to this seemingly easy question actually depends on several factors, and if you are curious to know about them, then make sure that you read the entire blog.
Check the hem
Start with the bottom hem when you are considering tucking in your flannel. If you find that the hem is straight and short then it is meant to be worn untucked. Being stubborn and going for a tucked-in look might gain you some unappreciated glances. However, if you see that the hem has a longer back or front and is uneven then it's a green signal for you to go ahead with the tucked-in plan. The hem should reach the middle of your back pockets or the middle of the front zipper of your bottom wear. Other than the hem, fabric plays an important role as well. Soft and smooth flannel is great for a casual untucked look. The ones with a formal touch or feel about them are better tucked. A notable shirt manufacturer in the USA brings an immense collection of snazzy bulk men's flannel shirts in different designs, sizes, and patterns!
Going for layers?
If you are thinking of wearing a blazer, leather jacket, or sweater over your flannel shirt, then make sure to tuck it in. You can leave the bottom hanging out, but even though it might give you a good look, it will still be risky, so until and unless you are 100% sure of your capability of carrying out the outfit in that way, you shouldn't try. If you are planning to wear a tee underneath your flannel shirt then you can wear it any way you like, tucked or untucked. It basically comes down to the look you are going for like if it's a date after work then tuck it in, and if it's something like attending your favorite band's concert, then never even think of tucking it in.
Pair them with smart, classy men's bottom wear, and don't forget to accessorize with a belt. Make sure that the color complements your flannel shirt.
Recommend Post : Flannel Shirts Vs Plaid Shirts: Understanding the Differences Between the Two
People and place
Also, it depends on the audience and destination. For an instance, if you are going to appear for an interview soon and you pick a flannel shirt as your choice, then to make a good impression on your boss, consider going for the tucked-in look, whereas if you have planned to go see the baseball match this weekend with your friends then having chicken and beer would suit the untucked flannel shirt look.
A famed shirts supplier presents a wow-worthy assemblage of striking, comfortable, durable, and functional wholesale shirts! Don't forget to take a look at the assorted catalog before placing your bulk order!
Direction : https://goo.gl/maps/LGvBuNYiqAbWE67a9