Flannel Shirts Vs Plaid Shirts: Understanding the Differences Between the Two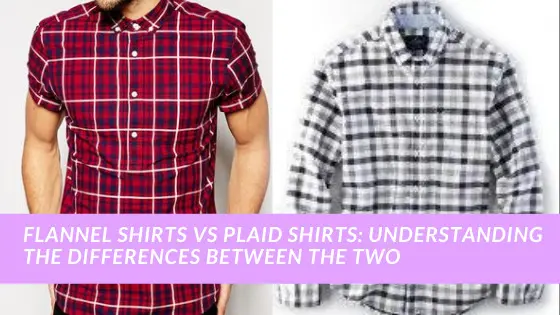 Full Audio Version: Flannel shirts Vs Plaid shirts: Understanding the differences between the two
Wondering if flannel and plaid shirts are the same thing? Though we often use "flannel" and "plaid" interchangeably while referring to these shirts, they're not the same. Flannel is a particular fabric while plaid refers to the specific pattern. Though it's possible for you to own a plaid flannel shirt, it's not necessary that all flannels are plaid and all plaid shirts have to be made with flannel material. Let's explore the differences between these two trendy shirt categories so that you feel confident about what you're wearing.
As a business owner, on the search for quality flannel and plaid shirts, you should connect with a top-rated shirt manufacturer, equally known as a leading polo shirt manufacturer. Such a shirt manufacturing hub can lead you to fashionable polo shirts, flannel shirts, plaid shirts, denim shirts, dress shirts and more of superior quality.
How to tell apart plaid from flannel?
No matter how similar they appear to be, flannel always refers to the material of the shirt while plaid signifies its design or print. You can point out a plaid shirt by looking at it carefully and examining its design. Do you notice that the shirt's print consists of horizontal and vertical channels of color that highlight a crisscross pattern? Then, that my friend, is a plaid shirt you've got in front of you. The bands may display different colors and widths but once you're familiar with the trend, you can easily recognize plaid shirts.
Flannel, on the other hand, can be a little trickier to identify. Traditionally, flannel used to be crafted from wool but in current times, cotton seems to be the dominant make of flannel. To verify that you're actually buying a flannel shirt, read the product description first. If it says that the shirt is made from wool, it's bound to be flannel. But if the shirt is mostly tailored with cotton fabric, its threaded pattern will determine if it's true flannel or not.
Usually, a contemporary flannel shirt is designed specifically to offer warmth and the product tag should reflect this info. If your preferred shirt's tag reveals that it's made from a fusion of different materials while being plaid-patterned, then chances are that it's not an original flannel shirt. Keep in mind that though flannel shirts tend to exhibit plaid patterns, they're actually available in all kinds of solid colors as well.
Origin of plaid and flannel
Plaid first come to life in Scotland where it was commonly termed as "tartan". Though the birth of plaid print can be traced back to Scotland, the craze for this shirt design sparked in 1970s when fashionistas in America and London found plaid shirts to be a versatile choice to connote elegance.
Flannel was first discovered in Wales during the 17th century. While plaid came to existence as a representation of culture and expression, flannel evolved as a practical solution to protect farmers in Wales from cold and harsh weather. This makes it quite ironical that flannel later became the number one choice for blue-collared workers who appreciate its durability and receive comfort from wearing it during work hours. To beat the cold was the initial intention of the flannel garment but in modern times, flannel shirts are mostly linked with manly pride and a rugged flavor that calls for its lumberjack effect.
Though it can't be concluded surely when flannel and plaid first met, it's assumed that this match was created in 1700s, owing to Scottish kilts. Thus, the tartan or plaid stood for Scottish heritage while the flannel material was opted for warmth and coziness. It's evident how the thickness of flannel material and the eye-catching style of plaid go hand in hand in defining fall and winter fashion aesthetics. This makes flannel shirts displaying striking plaid patterns much in demand from October every year.
If you're a retailer, looking for premium flannel and plaid shirts, make sure to collaborate with a reckoned shirt supplier, also famous as the best among flannel shirts manufacturers. This will enable you to access stylish flannel shirts, plaid shirts, checked shirts, denim shirts, formal shirts, golf shirts and other elegant shirts in sober shades and classy designs.