4 Cool Ways to Tuck in Your Dress Shirt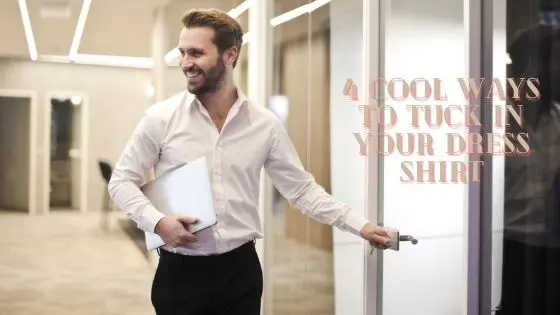 Imagine yourself in the middle of a meeting all set to give the presentation but just as you get up and are going forward, your dress shirt puffs out and comes untucked. The tragedy here becomes you not noticing it whereas everyone else does. It becomes a distraction, kills your confidence as well as your day. You don't want this nightmare to come true, right?
Just follow the suggestions and techniques below which come with a guarantee of not throwing you in such a difficult situation.
The basic tuck technique
The first technique is of course the one which most of you must have used at some point in your lives. It's pretty easy and straightforward. Open and pull down your pair of trousers and wear your shirt first. The next part is very simple. Tuck your shirt in nicely before pulling your trousers back up. Close the zipper along with the button, tighten your belt and you are done.
The underwear tuck technique
This one is logical, simple and works great most of the time. Here it's all about layering nicely– undershirt, dress shirt, underwear and trousers. Each shirt is tucked in carefully under the item that follows it. Then all that is left at the end is wearing your belt tightly and adjusting it properly. This technique makes use of friction to hold both the shirts in place. It stops the undershirt from meeting the dress shirt which can make it go untucked. One of the noteworthy dress shirt manufacturers have come up with a wide range of amazing dress shirt collection.
The military tuck technique
It is a method widely used by most men in military. It makes use of the basic tuck technique and adds extra tricks to make it more competent. Begin by wearing your trousers unbuttoned. After that, tuck your shirt in, close the zipper but leave the button open. Next you spread your legs evenly to prevent your trousers from going down. In this position, use your index finger and thumb to pinch towards the back any excess fabric from the side seams. Do this on each of the sides simultaneously. Whenever you are buying shirts whether denim, flannel, plaid, dress shirts or any other kind, always go for the stylish yet durable ones, only from a reliable men's shirt manufacturer.
Use of shirttail garters a.k.a shirt stays
In this technique, make use of a tool called "shirt stays", better known as shirttail garters. Here you don't need to pinch, pull up or push down. All that is required is to insert and remove the shirt stays. A constant downward pressure is used to lock the shirt stays in place. With the simple use of this, your shirt no longer looks sloppy even when you run, dance, bend down or reach out for something.
As a business owner with a dream of getting wholesale fashionable and fabulous t shirts, you should get in touch with one of the most reputed shirt manufacturers in USA. Such a manufacturer has come up with a colossal catalog which you can go through and place your bulk order. In case of a query, reach out to the support team.