The Ideal Dress Shirt For Him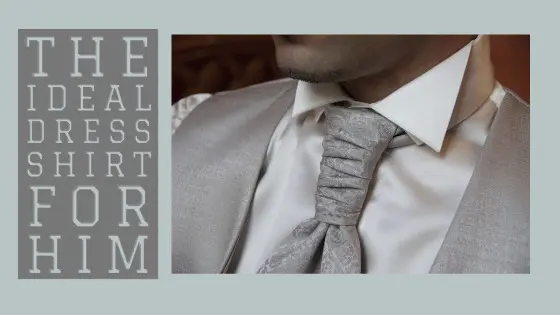 Discovering the right men's dress shirts for him will put a smile on his face and make him look his best if your partner needs some different seasonal looks or you just want to impress your sweetheart with something special.
Here are few pointers to help you figure out what would be best for his style, size, and preferences.
What qualifies a shirt as dressy?
First, remember your guy's wardrobe and what constitutes dressy wear for him. A man who wears a uniform to work and spends his spare time in casual denim and a tee is unlikely to choose to dress in a crazy formal style unless necessary. Guys who usually wear a shirt and tie to work may be looking for something a bit more stylish to wear outside of the workplace, or they may be in search of those classic neutrals to take off their work wardrobe. When it comes to selecting the right dress shirt, taking a few minutes to consider the kinds of clothing he likes and wants to wear will help you make the correct choice.
Dress shirt varieties
Because what a dress shirt means to your guy can vary, consider the following style choices that may be called dress shirts:
Men's dress shirt fabric options
Many fabric choices for men's dress shirts today are intended to provide full elegance, a flattering fit, and comfort. Supima cotton, broadcloth, and fabric blends are among the fabrics used for men's dress shirts by dress shirt manufacturers USA. Other choices for dress shirts include twill, poplin, cotton oxford, linen, and rayon blends.
Consider dress shirt designs and cuts
When looking for the perfect men's dress shirt, consider the style and cut of the dress shirt. Classic fits, which have a tailored, tidy, and polished appearance, and slim fits, which fit tighter to the body than traditional fits, are the most common.
Measurements and fit
The fit of the shirt is determined by several factors. Men's dress shirts can be available in measurable sizes that provide sleeve length and collar measurements. They can also be available in general sizes such as small, medium, large, even extra-large, as well as big and tall.
Pattern and color
Men's dress shirts come in a wide range of colors and patterns. You will find a favorite hue for him in anything from classics including crisp white and pale blue to coral or modern black. Prints and patterns range from checked designs with several colors to abstract prints or stripes.
Business owners and retailers who want variety can approach a denim shirt manufacturer right away.