Dress Up Like The Celebs In A Cool Denim Shirt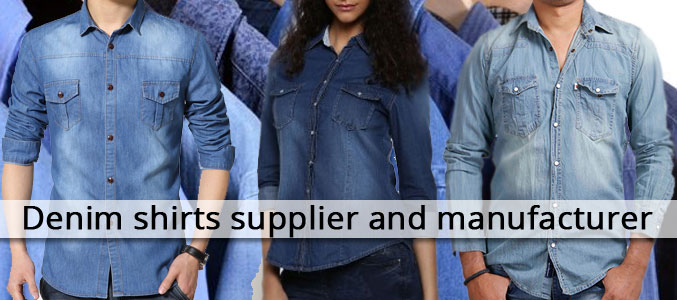 Though the fashion scene is evolving with time and every fabric or dress is seen going through constant changes, the one thing that has remained timeless is denims. Be it a shirt, jacket or trousers, relevance of denims will never lessen down and they will continue to rule the fashion trends for both men and women. These days, to bring twist and exciting touch, global designers and manufacturers are crafting denim shirts in a wide variety of cuts, colors, silhouettes and designs, and this effortlessly renders cutting-edge to your persona . A denim shirt wholesale is not only versatile, but speaks of vintage class.
Do you think that denim shirts are boring? Then go through the trends of the celebs to prove this notion wrong:
Office look like Charlize Theron
If you are wondering how to get a notched-up look at your office, then ditch your boring formals for a while and add verve to your get up like Chrlize Theron in a double denim attire. Slip into a light shaded denim shirt with a contrasting dark shaded denim pants, teamed with a black leather bag and ballet flats. The inventory of retailers have large variety of collared denim shirts in a wide array of washes and colors.
Minka Kelly's day-out look
If your friends have planned for a meet-up at a cafe, getting a simple yet sporty look like Minka Kelly is easy. All you need is a pocketed short-length denim shirt over a white camisole worn like a jacket on top of printed trousers and oft-colored velvet shoes.
Pool party shenanigans like Kate Bosworth
Getting decked up for a pool party? Deliver a completely unconventional style quotient like Kate Bosworth dressed up in a polished yet girly look with a dark washed denim shirt , all buttoned up over a mini floral wrap skirt and black sporty sneakers . Hence, if dressing up tomboyish is your wish, this is a perfect attire to go for!
Weekend brunch scenes Katharine McPhee way
Add panache to your weekend vibes for a sleek look like singer Katharine McPhee in a striped flowing maxi skirt teamed with a sleeveless denim shirt tucked in. For the much needed flair, you can team this with collar necklace, sling bag and wedge flat or casual ballet slippers.
Party-night fun in Chanel Leigh Lezark style
Top DJ and model Chanel Leigh was spotted in a beautiful faded floral printed mini-dress, double layered with a denim shirt and leather moto-jacket for an edgy get-up. If you are planning for clubbing and hitting the dance floor this Saturday, befriend this edgy attire paired with chic pairs of wedges or pointed heels.
Rachel Roy's holidaying outfit
For all the fun weekend gateways, slip into a slim fit classic denim shirt tucked in with a vibrant colored crop pant with ballet flats or sneakers like stylish Rachel Roy. The retail outlets are stocking in galore these slim-fit shirts for an enhanced collection from any leading slim fit denim shirts supplier.
To conclude, it can be said that getting desirable looks in a denim shirt wholesale is quite hassle-free, if you are aware of the top-notch fashion trends.