5 Fashion Police Approved Ways To Wear Denim Shirts This Fall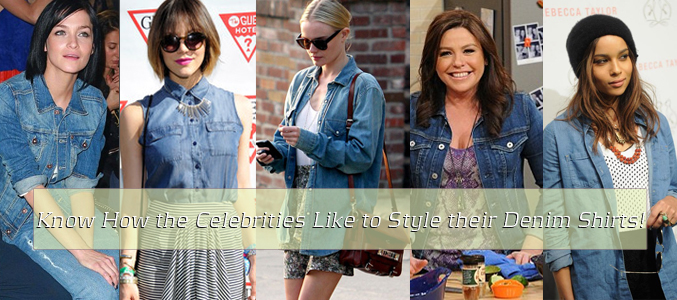 Denim shirts are love at first sight. We can never get enough of them. The fashion police have approved it time and again, considering it to be one of the best pieces to ever have braced the circuit. Have you one in your wardrobe already? If you don't, splurge on it. for below is mentioned five ways in which you can wear them this fall. Worth the try!
A transitional look can never go wrong. It is literally putting together clothes from two different seasons together. A dress shirt and a denim shirt are the best combinations so forth. Each has a beautiful finish and can steer the attire towards excellence. Pick a black dress shirt and amplify its beauty by tying a denim shirt in lighter wash around the waist. A simple necklace and a pair of boots will sail your ship.
Another traditional denim shirt look is to team it with the autumn staples. A chambray shirt in lighter texture worn with a pair of black leggings and knee-length boots is classy and elegant. A white cardigan thrown over casually not only adds to the overall appearance but also protects you from the harsh autumn winds. Go sans accessories to look get a stunning result.
Womens denim shirts come in different designs that retort to different occasions. The next shirt is more formal in its approach. Tuck it inside a pair of jeans and wear a structured jacket on top to give off some conventional vibe. A pair of pumps will enhance your stature.
Whenever denim on denim is taken into consideration a pair of jeans becomes the inevitable choice. But instead of pants, opt for denim skirt this time. Tie your shirt in front and wear a pair of strappy heels to look sexy. However, remember to go for different textures for the shirt and skirt to avoid looking sloppy. Shades for accessories will sum up the look perfectly.
Thick denim shirts can be used as jackets as well for they offer premium warmth. To wear your denim shirt like a jacket, team it with a nice solid t-shirt in basic shades and pair of jeans. White trainers will amplify the spontaneity of the guise. Wholesale denim manufacturer has thick shirts constructed that will serve the purpose well.
So with all these style tips, make sure to use them wisely this season. Exploit the versatility of the denim shirts and boost your personal style statement. Celebrated denim manufacturer has an inventory that displays denim shirts at their best. Interested retailers can make a bulk purchase by simply registering with them online.
AUDIO VERSION:
5 Fashion Police Approved Ways To Wear Denim Shirts This Fall