Styling Tips for Wearing Chiffon Tops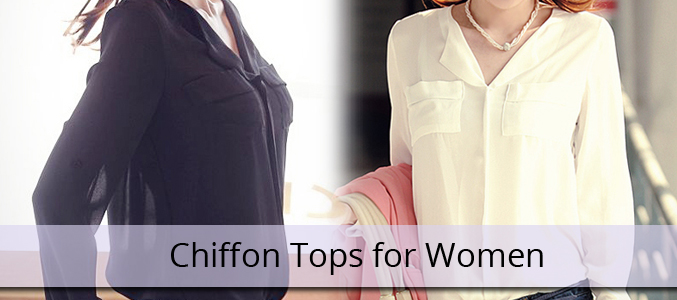 Women are always on the hunt for versatile and beautiful tops and blouses that can be worn to add glamour on a lazy afternoon outing or to the office boardroom. The sheer blouses are one such clothing item that is perfect to be worn on the streets, offices and parties. This is a raging trend and one of the easiest ways to wear the look. Even a basic sheer shirt in a neutral color can be worn in a number of ways to create a range of different looks. Here are a few simple suggestions to nail this style.
Layering
Smart layering is one of the easiest ways to wear chiffon tops for women. Since these blouses often show that is underneath, wearing a slip below would be a wise choice. To make things more interesting and attractive, one can team up a neutral color blouse with a colorful slip. One can also show off a stylish bra or a crop top underneath, for a more daring look. When it comes to layering over the top, one can wear a blazer to give the outfit a bit more structure and sophistication. A knit sweater can also be worn for warmth during fall.
Loose the Better
Chiffon tops are best worn loose. Tight-fitting sheer garments tend to portray a more risqué look. With sheer blouses, one should aim at achieving a relaxed and floaty appearance. One can always team up the loose fitting top with something a bit more fitting for an edgier and chic look. There is dearth of prints, patterns, designs and color options when it comes to sheer tops.
Button It All the Way Up
When thinking of wearing sheer blouses to work, one should think about looking sharp and smart. This can be achieved by buttoning it all the way up. This conservative manner of dressing is going to help to balance out the titillating nature of chiffon tops for women. One can tuck it in a pencil skirt or pair it up with a trendy outerwear like a blazer, for an office-friendly look.
Attention to the Rest of the Outfit
In order to nail the look in a sheer top, one ought to give special attention to one's entire outfit. Chiffon tops can be quite voluminous and hence, it is important to create some structure. Bottom wear should be worn in stiffer fabrics. One should also avoid sharp accessories that could potentially catch and pull on the blouse.
Retailers and clothing store owners dealing in women's clothing and interested in upgrading the stock of chiffon tops for women to offer customers more variety and options, can contact any of the leading manufacturers, wholesalers and suppliers to get bilk products at economical rates.