Shirt Outfits That Are Inspired By 90's Fashion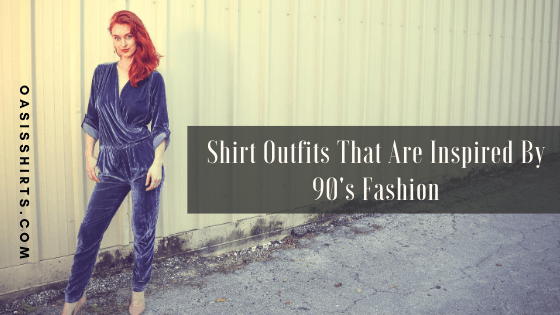 Since the 90's trend has risen from the ashes, it is guaranteed that millennials that going to bask in the glory of the resurgence fashion. There are so many clothing styles that you can incorporate with your daily look.
In fact popular t-shirt suppliers have come up with a unique range of shirts you can have a look at. All you need to do is brush up your creative skills cause this time it is going to be a mash-up of chic trends.
Animal Print
The stylish animal printed clothing has somewhat gained a classic stylish due to its versatility. if you love to create bold attires then something that is on the wilder side will definitely come in handy. Hence, all you need is a white shirt with statement gold buttons and a snakeskin skirt with zip detailing to complete the look. For the shoes, stick to something neutral to maintain the color balance.
Velvet
The soft and plush feel of the velvet is super alluring. If you want to adorn the comfortable fabric of the 90's then make sure to choose a pair of velvet shorts to be worn with the shirt. Hence, an ombre blue velvet shorts combined with a cropped shirt will definitely help you to accentuate the outfit. You can even opt for velvet boots to add to the obsession.
Slip Dress
The right way to style a slip dress is with a solid colored t-shirt which will eventually help you to accentuate the layer wear. You can simply opt for a satin slip dress in a trendy pastel shade like sunset yellow or even mint green. For the layer wear it would be advisable to stick to a white shirt with embroidered collars to complete the look. Ballerinas pumps work well with the outfit if you want to stick to girly basis.
Printed Leggings
Printed leggings have definitely created a rage in the fashion scene. If you wish to create a classic work appropriate outfit then all you need to do is opt for a striped leggings with leather accents and a solid colored shirt to complete the look.
Business owners who wish to include classic & wholesale polo shirts in their store can definitely get in touch with one of the popular private label clothing manufactures. Browse through the large collection of clothing, select the required pieces and state the bulk needs to the help team. You can even get discounts on the purchase.