5 Significant Factors to Consider While Buying Maternity T-Shirts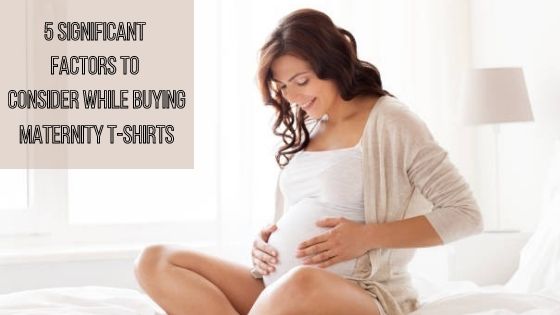 Full Audio Version: 5 Significant Factors to Consider While Buying Maternity T-Shirts
Looking for an appropriate maternity t-shirt to dress up your baby bump? Well, we've laid down some of the important factors you should take into account as you shop for maternity shirts. If you're a thriving business owner, looking forward to curating good maternity t-shirts, make sure to associate with a distinguished supplier of high-quality blank maternity shirts wholesale.
A look into modern maternity tees
Before we touch upon the things to check for in maternity tees, let's take a peek into the latest updates about maternity clothing. Maternity t-shirts have now earned quite a reputation as the reliable apparel of pregnant mommies. A striking t-shirt under this particular category with a deluxe fitting and unmatched fabric softness is just what a pregnant lady needs to carry out her daily routine in this delicate condition without facing any discomfort, distress or restriction in movement. If you're looking for maternity tees to look stylish and most importantly, feel comfortable, you should alertly procure such voguish tees to flatter your current state while ensuring maximum convenience.
Want your maternity tee to feel comfortable? Then, be sure to grab a maternity t-shirt that's crafted with a fabric of superior quality. A soft and breathable t-shirt that's devoid of scratchy tags or annoying stitches will level up your wear comfort which is after all, the first thing to seek when you need clothing for your pregnant condition.
If you're an expecting mother, on the quest for maternity t-shirts, be determined to pick out pregnancy t-shirts that are specifically designed to offer a loose fitting. Clothing that's too tight may feel uncomfortable or even hurt when you're pregnant. So, it's essential that you get hold of a quality maternity tee that's light and comfy with a supreme fit to help you carry yourself with ease and make you feel relaxed wearing it.
Wish that you're maternity outfit is show-stopping? Even in such a state, you can look stylishly graceful, if you opt for maternity tees that feature snazzy cuts, elegant sleeve patterns, voguish necklines and interesting silhouettes to stand out in terms of style and appeal.
Chic colors, prints and patterns
Who says that modern pregnant ladies can't carry themselves fashionably?! If you have a little one coming, it should inspire you to flaunt your baby bump in attractive maternity clothing that obviously scores high on comfort. Choose maternity tees in vibrant hues, dual tones, striking prints and eye-catching patterns to pull off a stylish soon-to-be mommy look effortlessly.
Sustainable t-shirt material
Don't want the color of your maternity tee to fade out? Want to prevent its fabric from degrading after a few times of wear? Then, be certain to look for a maternity t-shirt that's tailored with durable and long-lasting raw materials. This will allow easy maintenance and enable you to keep up its fresh appeal without worrying about another purchase.
Being a retailer, on the search for maternity tees, a tip for you is to collaborate with a renowned shirt manufacturer with an extensive women's shirts catalog. The huge women's collection of such a shirt supplier is sure to compromise of iconic wholesale womens flannel shirts, maternity t-shirts, women's plus size t shirts wholesale, girls shirts, ladies polo shirts and more. This will help you access breezy and fashionable maternity t-shirts in attractive prints and designs.